Get the latest in college basketball and March Madness on ESPN+. Sign up now.
His bags were all packed. It's the moment he had been waiting for ever since he visited the campus for a second time—the trip that sealed the deal and helped him make up his mind about attending Gonzaga. Jalen Suggs was ready to head out to the Northwest for summer workouts, to officially be on campus as a student. But then both of his parents tested positive for COVID-19. The health scare pushed his arrival timeline back. And so, while top recruits at many of the country's top programs were already on campus, getting acclimated to the next level and partaking in newly implemented and individualized strength and conditioning regimens, Suggs found himself isolated at home for what felt like forever. 
"Everybody else got here like a month before I did because, first, I had to wait like an extra week and a half, two weeks, so I could get all my Invisalign stuff and get all of that figured out and my health stuff before I could come out here," recalls Suggs. "And then I was getting ready to leave and my mom and dad got COVID, so then I had to quarantine before I could come out here. So that was a whole, like, extra month where I was just ready to leave. All my bags were packed and I was just at home. That was tough, but when I finally got out here, I remember I came off the plane straight to the gym. Everybody was in here working out. I put my shorts on and just a regular t-shirt and got in with everybody."
Despite the late arrival, Suggs quickly found himself surrounded by hoops legends and NBA talent. It was a quick glance into the culture that has been built at the school. There weren't any official practices happening yet but just the workouts and pickup runs alone gave him the sense that there could be something unique looming.
"I know that when I first got here, Payton Pritchard was down here working out with [John] Stockton, with David and John. You know, just pre-draft stuff and trying to stay right. So, he was out here and we were kind of playing, just open runs with the team and a couple of alumni out here. That was really fun for me 'cause I had watched him all last year. He had just won the Bob Cousy Point Guard of the Year award. So, to come out and in my first couple of days here to play against him was a good experience," says Suggs. "Everyone could go get a bucket, everyone was smart. Then once we got into practice, we kind of started to work our way and gel and you could see all the chemistry brewing. I think that's probably the moment I realized we had a really good team here and a really special opportunity."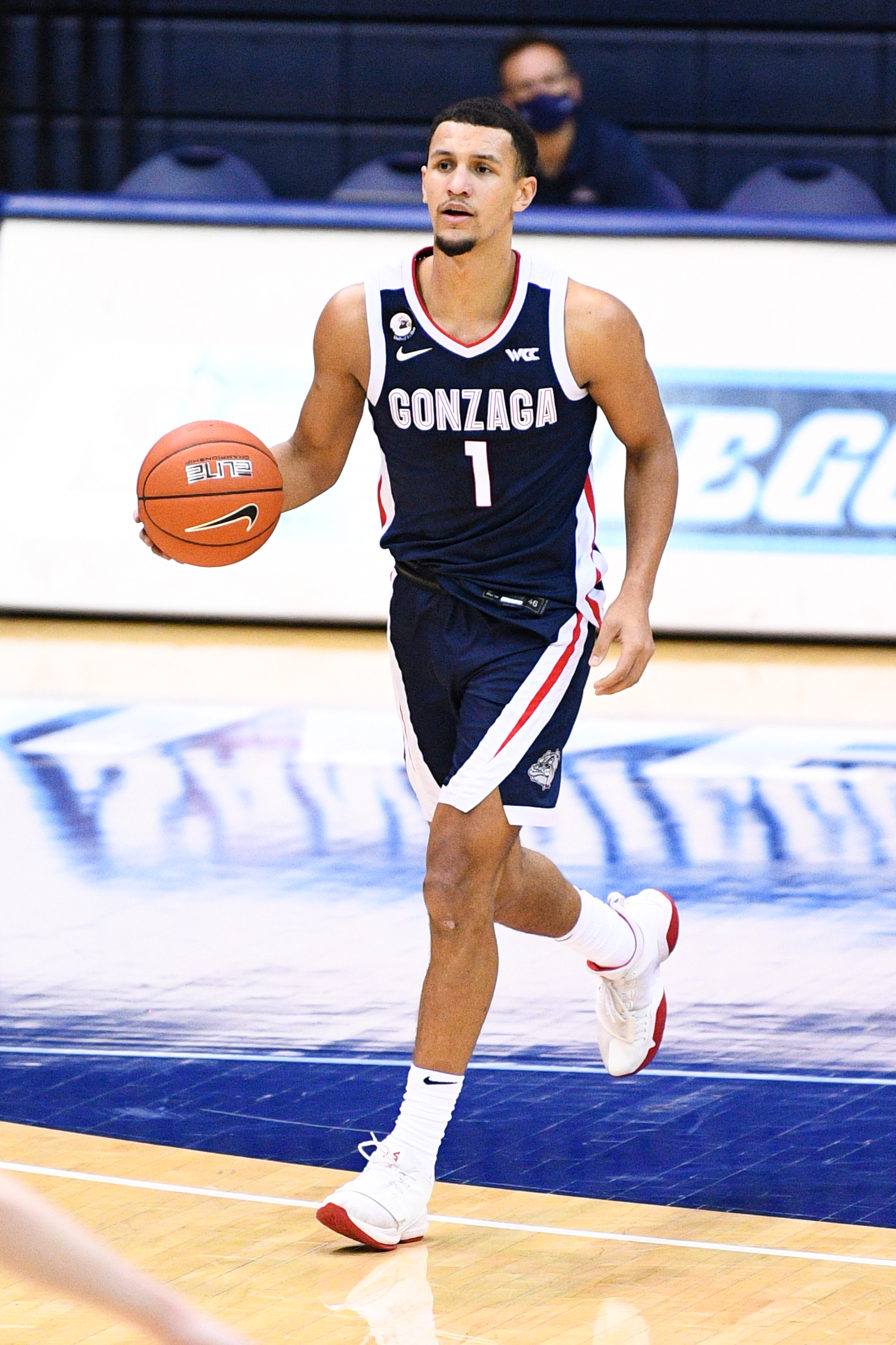 Suggs became the highest-ranked recruit to ever commit to the program when he pledged to suit up for the Bulldogs in January of 2020. At the time, he was still not completely ruling out turning pro and going overseas, telling ESPN that it was a "very serious" option during his college announcement. His home state Minnesota Gophers, along with Florida, Florida State and Iowa State made up his top-5 list.
The 6-4 guard's athletic superiority has been evident for a very long time. He made his high school varsity debut as a seventh grader at Minnehaha Academy in Minneapolis. By eighth grade, he was already a regular starter averaging over 17 points per game. He went on to become a top-5 recruit, averaging 23.5 points, 7.3 rebounds, 5.1 assists and 3.8 steals per game by his senior year while leading his team to a 26-3 record—good enough for No. 13 on the national rankings. For his high school career, he pieced together a 111-15 overall record on his way to three consecutive state titles. He would have likely made it four consecutive championships if COVID-19 hadn't forced the cancellation of his senior year's state tournament. 
As if his proven track record on the hardwood wasn't impressive enough, Suggs did all that while simultaneously turning heads on the gridiron in high school, where he led the football team to a state championship as a junior. He emerged as a four-star quarterback prospect and racked up double-digit college football offers, ultimately becoming the first athlete in state history to be named Mr. Football and Mr. Basketball in the same school year. MaxPreps subsequently named him Athlete of the Year. 
Suggs, who has a long list of big-time athletes in his family, including cousins Terrell Suggs (two-time Super Bowl champ) and Eddie Jones (former NBA All-Star), knew that eventually he'd have to focus on just one sport—a decision that became much more difficult internally than the outside world would ever notice. 
"That was horrible. I'm going to be honest with you, it was terrible. That senior football season, the whole time we were playing, I was like, Man, I don't want to give this up. This is going to be my last practice for week three, my last practice going into playoffs! [When] we got to states, This is my last state appearance! It was just something I found myself thinking, I don't want to get rid of this right now. It's not something I'm ready to give up. So, I went and had a long talk with my dad. Just a real man-to-man talk, just right in our kitchen. It was emotional, honestly, because I knew I was about to give up something that I loved a lot," he recalls.
"I put a lot of work into it and I've been doing it all my life. But we came down to the decision and he brought up a lot of pros and cons, what would be the best for myself, for our family, moving forward. I mean, it was something that at the end of the day I always know I can go back to if I want to, but basketball was something that I had to lock in on." 
As we headed to press for our Future Issue, Gonzaga was a perfect 23-0 and has held on to the No. 1 spot in the college rankings throughout the entire season (right now they're 26-0). Suggs began his college career with a statement-performance against Kansas, dropping 24 points and 8 assists in his debut.
"I knew I felt really good and I was ready to go [when] we're in warmups and I was jumping really good and I was feeling really loose," says Suggs. "When the bigs started to do their individual stuff and we're stretching, I was trying to stretch out and I asked our trainer to kind of stretch out my hamstrings and my back. And I felt too good. I couldn't stretch anymore. I was just ready to go. Off the gate, obviously, I get the lob and a couple of good plays in the second half. I was doing my thing. But I knew from the warmup that I was ready to go and I was super locked in."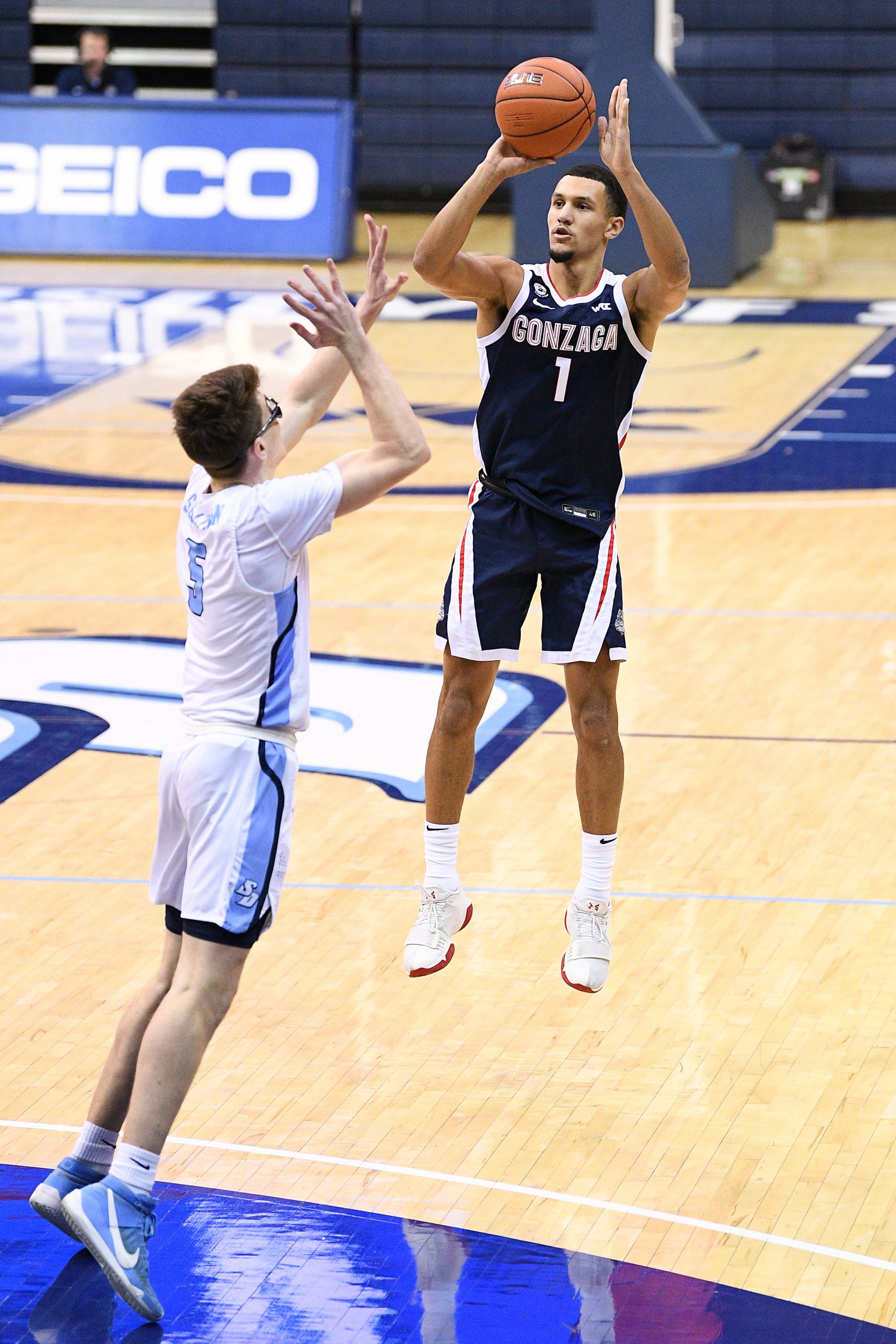 Two weeks later, the Bulldogs took down No. 3 Iowa in Sioux Falls, SD, behind a career-high outing from their freshman star. Suggs put up 27 points—going 7-10 from behind the perimeter—to go along with 7 rebounds and 4 assists. That game actually marked the first time a good majority of his family was able to see him play in person wearing a college uniform. He estimates that number to be around "like high 20s, low 30s." 
"That whole game and that two days [leading up], I had a bunch of family there. They're in the crowd. I knew I had to play good in front of them because this was their first time seeing me play in a college basketball game [in person]," Suggs recalls. "I think the energy in there was really good; having them there helped. That was a really good day. I had my mom, my grandma in Florida [for the Kansas and Auburn games], but I had a bunch of [more] people there for that weekend." 
He isn't expected to be around Spokane for much longer. His name is being mentioned among the top-5 projected picks in the 2021 NBA Draft. There's one mock draft site that has him listed at No. 2, as of late February. He sees it. He hears it. There's no escaping it. No matter how much a prospect of his status today tries to avoid peeking at those lists, the internet and cell phones have made it pretty much impossible. In that sense, this season has been as much of a mental exercise as it's been about continuing to show and prove on the court. 
"I think it's impossible to ignore it, just with social media these days, and TV, and even with family and friends. I think it's impossible to ignore it but I try to block it out as much as I can. [I] just try to stay focused on being here, being with my team, listening to the coaches and continuing to get better," says Suggs.
"All that stuff will take care of itself. If I don't handle what's going on here in the present, that stuff, it's all going to change and it might not be there [anymore]. So that's kind of been my mindset with everything—just being as present as I can, giving my all to the team and trying to get better, and letting all that stuff figure itself out." 
—
Photos via Getty Images.
1,548