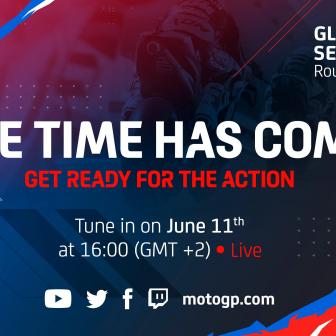 All that's left to do now is race, and the time is upon us. Round 1 of the hotly-anticipated Global Series is now ready for lift off, and will be broadcast on the 11th of June at 16:00 (GMT +2). The first event will take place online, whereas the further three will be announced at a later date and take place later in the season – with the format depending on the situation regarding the Covid-19 pandemic.
Presenters Jack Appleyard and Jack Gorst will host the hour-long show, which will begin with highlights of qualifying before the 11 riders take on two races. The first one will be held on the Algarve International Circuit and the second one will be on the Autodromo Internazionale del Mugello. The riders will be playing on the new official MotoGP™21 Videogame from videogame developer, publisher and longstanding partner Milestone with race direction and the event powered by Lenovo Legion PCs. The points system for Round 1 will mirror the MotoGP™ World Championship, with 25 points for a win. 
Fans can watch on motogp.com and esport.motogp.com, on selected TV broadcasters, and across social media platforms including YouTube (via the MotoGP™ and MotoGP™ eSport channels), MotoGP™ eSport Twitter, Instagram, Facebook (via MotoGP™ and MotoGP™ eSport pages) and Twitch via MotoGP™ and MotoGP™ eSport.