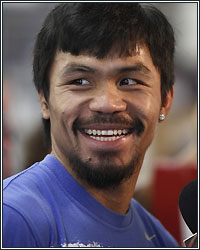 NOW it's definitely time for Manny Pacquiao to retire.
I stress the "now" because the boxing media has been trying to push Manny off into retirement since 2007. They've been wrong in their assessment of what the Filipino icon had left every single time and, yeah, I've been right about what he had left…every single time. 
In 2007, when Pacquiao looked flat in beating Marco Antonio Barrera in their second meeting, he was "done." That was when 28 was actually fairly old for a fighter at the lighter weights. They said he had been in too many battles and was aged beyond his years. 
Then, he went on to beat Juan Manuel Marquez and, after that, made the move to 135, 140, and 147.
In 2012, when Marquez knocked Manny out cold, he was also "done." 
Then, he came back to beat Brandon Rios, Timothy Bradley, and Chris Algieri
In 2015, after Manny lost to archrival Floyd Mayweather, he was "done."
Then, he came back to beat Bradley again and Jessie Vargas
In 2017, when he lost a controversial decision to mega-ordinary Jeff Horn, members of the media were writing weepy "Please retire, Manny" columns because he was "done."
Then, he would really prove the media experts wrong when he went on a run, beating Lucas Matthysse, Adrien Broner, and Keith Thurman. 
But now, yeah, he really is done. There ain't no coming back this time, unless his people are very, very careful about matchmaking (and Pacquiao HAS earned the right to one farewell squash if he so chooses). 
The multi-division world champ and future Hall of Famer looked old, tired, and impotent in there against Yordenis Ugas Saturday night at T-Mobile Arena in Las Vegas. The 42-year-old had 42-year-old legs. His foot speed wasn't there. His explosiveness was absent. And his power, which is generated in great part by the torque from his lower body, was not there at all, either. 
Throwing arm punches and half-speeding his way through a buzzsaw, frenetic style that was neither buzzsaw-like nor frenetic anymore, he just couldn't pull off anything that had made him a special fighter up until Saturday. 
This is not taking anything away from Yordenis Ugas. To be honest, I'm being a bit of an asshole because I'm halfway into this column before even mentioning his name. But Manny is a big deal and Yordenis will have his chance now to also make himself a big deal. Even at 35, the Cuban has time to forge a sizable legacy and he's in the right company to face just about everyone he needs to face to make that happen.  
Ugas did everything he needed to do to beat Pacquiao. He worked within his skill set, controlled the pace of the bout, and had the discipline and focus to keep it up for twelve full rounds. It's not his fault that he wasn't fighting the best version of Manny Pacquiao. He played the game to the fullest of his ability with the cards dealt to him. That's everything and, really, the only thing, he should've been expected to do.
The Olympic bronze medalist and defending WBA welterweight champ kept everything at a favorable distance and controllable pace with a solid jab and smart footwork. His right hand, which looks like a wide and wild buggy-whip shot or a sloppy overhand blast to the untrained eye, was highly effective against Pacquiao's ultra-southpaw style. By the end of the fight, Ugas was landing that right hand consistently, although he seemed to be throwing more for contact than impact. 
I wouldn't go so far as to call the performance "masterful," but it was very good and, again, he did everything he needed to do against the Pacquiao who entered the ring.
Ugas' immediate future seems fairly mapped out. A unification bout with IBF/WBC champ Errol Spence will likely enter the planning stages as soon as Spence's torn retina is fully mended. Before or after a Spence fight (depending on Spence's recovery time), Ugas may be matched against Jamal James, who won the interim WBA title against Thomas Dulorme last August and then was elevated to full champ status this past February when Ugas was declared "super" WBA champ. Since the WBA is pretending to be on the side of the angels after being busted for their scumbaggery in the whole Mykal Fox-Gabriel Maestre debacle earlier this month, they've been calling for unification of their many, many world titles and this means, probably, a consolidation of their 147 lb. belts as well.
Around fights with Spence and James, standby bouts could happen with anyone in the WBA welterweight top 4– Eimantas Stanionis, Abel Ramos, Radzhab Butaev, or Gabriel Maestre– all PBC fighters). A shamed WBA might even toss Mykal Fox an "I'm sorry" prize and line him up for a shot at Ugas. 
Whatever the case, Ugas is now a main stage player and consistent, complete performances will be expected of him from this point forward. This'll be his chance to prove himself an elite.
But back to the outward-bound legend…
Sooner or later, age catches up with everyone and Pacquiao definitely got tapped on the shoulder by father time on Saturday. 
But Manny went out in the gentlest way possible against an opponent who's never gunning to kill and was absolutely fine with taking a scorecard W. If he had found himself across the ring from original opponent Errol Spence, things may have been ugly.  And let's not think of the brutality that could've ensued if Saturday's version of Pacquiao had met the hungry and angry Terence Crawford.
So, this is definitely the right and proper time for a Manny Pacquiao retirement. With a possible run for the Presidency of the Philippines on the horizon and absolutely nothing more to prove in the ring, there's zero reason to keep fighting. It's time for Manny to move on to bigger and more significant things.
Got something for Magno? Send it here: paulmagno@theboxingtribune.com
[ Follow Sean Zittel on Twitter @Sean_Zittel ]