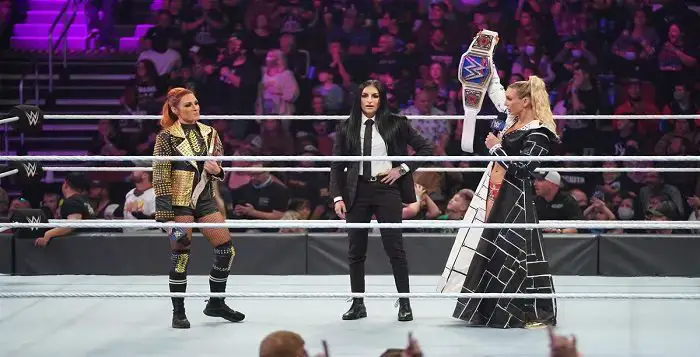 It's becoming a thing. While the storylines that you see on a wrestling show are written in advance, you will occasionally see real life issues spill over onto the show. That can make for some rather intense moments, but it also has fans wondering whether what they are seeing is real or scripted. That might be the case again in WWE, as a big match with a personal story is coming.
Last month, Becky Lynch and Charlotte had a backstage incident after a SmackDown segment involving a trade of the Raw and SmackDown Women's Titles. The two argued backstage, with Lynch standing up for herself when she felt that Charlotte had disrespected her. This has been discussed since, and now Lynch herself is being asked about what happened.
Lynch was interviewed by the Sports Illustrated Media Podcast and was asked about her relationship with Charlotte. In response, Lynch said that she and Charlotte do not speak anymore. She also spoke about how the locker room needed a hero and Lynch is fine if that is her. Lynch also spoke on the idea of trust in the ring, saying that not being able to trust a wrestler in the ring can make a match that much harder. Charlotte and Lynch are scheduled to face each other in a champion vs. champion match at Survivor Series on November 21.
This is a fascinating interview. Check out the full video, plus Lynch and Charlotte in the ring:
WWE Hall Of Famer Wanted To Be Brock Lesnar's Sister