Hot on the heels of the incredible Abu Dhabi Grand Prix on Sunday, today Yas Marina Circuit was again the focus of F1 as the two-day Formula 1 Young Driver Test and Pirelli tyre testing got underway.
Newly crowned 2021 F1 World Champion Max Verstappen was on duty for Red Bull, after some serious partying on Sunday night into Monday morning. His defeated title rival Lewis Hamilton did not take part.
Nyck de Vries set the fastest time for Mercedes on the day doing duty for the 2021 F1 Constructors' World Champions. The team's reserve driver completed 77 laps in the W12 car, topping the times with a 1:23.194s, nearly 1.5s faster than P2.
Several Young Guns were at the sharp end of the timesheets, with Red Bull junior Liam Lawson in the AlphaTauri second fastest with 125 laps covered, a mere 0.006s clear of Formula 2 champion Oscar Piastri in third for Alpine, who topped the 100 lap mark.
Next year's rookie, Guanyu Zhou was fifth fastest for Alfa Romeo
A mere 0.09s separated the trip which included IndyCar star Pato O'Ward, testing for McLaren as a result of a deal made with Zak Brown to do so when he took his first IndyCar victory. O'Ward ticked off 92 laps on his first day as an F1 test driver.
Next year's rookie, Guanyu Zhou was fifth fastest for Alfa Romeo, the Chinese driver doing 119 laps in the C41.
Juri Vips was sixth in the Red Bull, although he did cause one of three red flags during the course of the day making contact with the Turn 14 wall.
Aston Martin simulator driver Nick Yelloly was seventh, a little under 2.2s shy of the top time, before the first of the tyre test runners in Daniel Ricciardo.
Teams were running mule cars to test the 2022 18-inch Pirelli tyres that will be introduced in 2022. Ricciardo was nearly a second slower than Yelloly, but 0.3s clear of Lance Stroll in the adapted Aston Martin.
The McLaren driver caused the first red flag of the day around 90 minutes in when he stopped in the final sector due to a mechanical issue.
Mercedes allowed Valtteri Bottas to have his first taste of the Ferrari powered Alfa Romeo
The final red flag interruption came thanks to a power unit problem for USA driver Logan Sargeant, making his F1 debut in the Williams. The 20-year-old completed 92 laps before his day came to an early end.
F2 runner-up Robert Shwartzman took over from Antonio Fuoco for the afternoon session as part of the Young Driver Test. The Russian was 10th, 0.3s faster than Charles Leclerc who had done tyre test running in the morning.
Mercedes allowed Valtteri Bottas to have his first taste of the Ferrari powered Alfa Romeo, with the 18-inch tyres, managing 127 laps, which included a spin in the morning.
George Russell started his first day as a full-time Mercedes driver, adding 131 laps on the 2022 Pirelli offerings.
Russell was fractionally slower than Verstappen. The World Champ completed 123 laps on next year's tyres and advice for Vips in the 2021 car.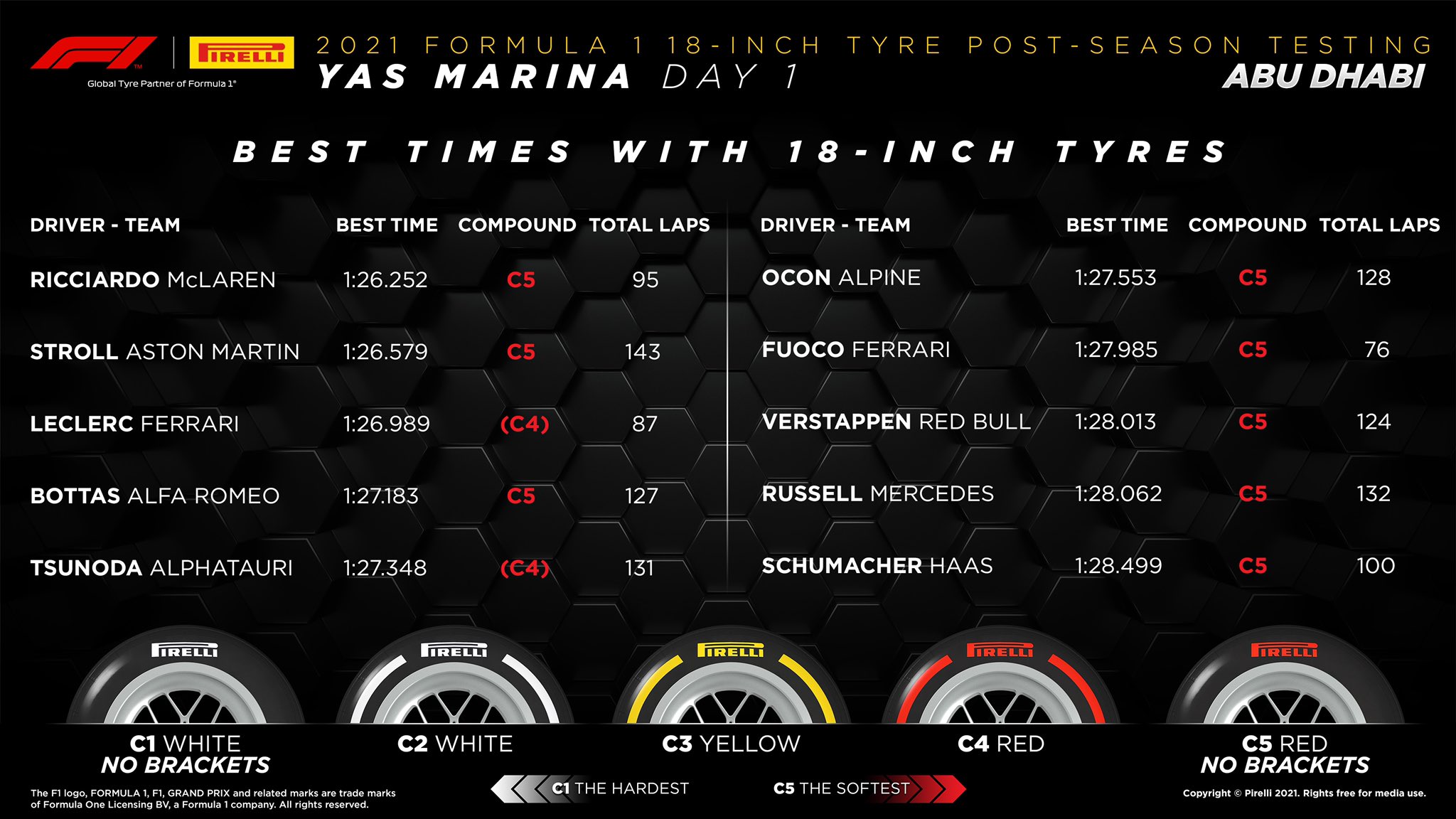 This is what teams (who bothered to report from the test) and drivers had to say at the end of day one the Young Driver Test:
Red Bull
Just two days after a hugely dramatic conclusion to the 2021 Formula One season, new World Champion Max Verstappen was back at the wheel of an F1 car at Yas Marina Circuit as the sport's final test session of the year got underway.
Max put in 121 laps at the wheel of a car modified to test new Pirelli tyres for the 18" wheels, being introduced to the sport in 2022.
The Champion was joined on day one of the two-day outing by 21-year-old Red Bull Racing Honda Junior Jüri Vips as F1 gave young drivers a taste of Formula One machinery.
The Estonian FIA Formula Two driver completed 96 laps on his debut at the wheel of this year's RB16.
Max Verstappen: "It felt good to be back behind the wheel and it was good to get a feel for the new tyres. Everything went smoothly and there were no major shocks around the tyres, which is always positive.
"Everything changes next year and the cars will be very different, so it's good to have initial information about the tyres. It was a good day today at the end of a very long but ultimately massively rewarding season and now I'm very much looking forward to some time away from the racetrack!"
Juri Vips: "I have been looking forward to this test for a while now, it is such a privilege to drive a Formula One car, even more so a Championship-winning one.
"It took my brain some time to get used to the speed of the RB16B because the pace is just crazy but then it is like any other car and you just get used to it and do your job. I had a small moment in the afternoon but fortunately, everything was okay and I was back in the car soon after.
"I am super fortunate, first to be working with Red Bull Racing Honda but secondly to get the opportunity to drive this car."
Guillaume Rocquelin, Head of Race Engineering added: "Today we had Jüri Vips with us for the young driver element of the test and he was effectively driving the car we raced during the Abu Dhabi Grand Prix weekend. He mostly worked to confirm the results we had throughout the season and on simulator correlation.
"Max, meanwhile, was working in a prototype car to accept the bigger 18" tyres as closely as possible to the expected regulations in terms of weight and downforce. Everything went according to plan. We had already done quite a bit work on the new tyres with Alex Albon during the season so fortunately today we could just get on with it. The car was well balanced and it was a good day."
I'm going to miss today😭 unbelievable machine. Thank you @McLarenF1

Voy a extrañar el día de hoy. Inolvidable experiencia. ¡Gracias EQUIPO! #McLaren #F1 pic.twitter.com/8PcAMR3HNo

— Pato O'Ward (@PatricioOWard) December 14, 2021
McLaren
Daniel Ricciardo: "It's been a good day of testing to close out the 2021 season. Getting some track time on the 2022 tyre has been really useful. We've managed to learn a lot and gather a load of data, which is useful heading into next season.
"There's still some bits we need to learn before we go racing next year but we're in a good place. Now I'm looking forward to getting home, catching up with family and taking some time off before we get back in the car in February."
Pato O'Ward: "Today was awesome! The car exceeded my expectations of what it's capable of – it's ridiculous how much grip there is, specifically in the fast corners – it's unbelievable. For sure, in the morning, my head was still on my neck.
"But towards the end of the day, I really think what ended up limiting me being able to go quicker was just not being able to hold my head up and see fully where I was going.
"My head actually was just looking down because I couldn't hold it up! It's such an awesome car. What a great experience, I didn't want the day to finish. I'd like to thank Zak, Andreas and everyone in the F1 team for supporting me through this incredible day."
The big boots are on @DanielRicciardo's car for today's test. 🥾

Check out the 2022 18-inch @PirelliSport tyres! 👀 pic.twitter.com/OEcmUEpXlY

— McLaren (@McLarenF1) December 14, 2021
Williams
Dave Robson, Head of Vehicle Performance: "Logan did an excellent job today. This was his first time in a Formula One car, and he didn't put a foot wrong. We worked him through a full programme, which introduced him to a range of situations and experiences that are typical of a normal F1 race weekend.
"He completed 92 laps using the Medium and Soft tyre compounds from last weekend's Abu Dhabi Grand Prix and he adapted to the physical and mental challenges of an intense F1 programme with ease and professionalism.
Logan Sargeant: "What an incredible first day in a Formula One car; it was everything I expected and more. I want to start by saying a massive thank you to Williams, as that was the experience of a lifetime.
"The team did a great job preparing me for today and giving me the confidence to go out there, enjoy it and do the best I could.
"We got through the run plan and I really progressed a lot throughout the test. The first couple of runs felt unbelievable with the amount of grip and power the car has, but I got used to it fairly quickly and felt comfortable by the end of the day.
"It's definitely a massive step up from the FIA Formula 2 and FIA Formula 3 cars; the brake performance is much better and there's a lot more downforce.
"The stopping power was like nothing I've felt before! The more you drive, the more you learn and the more pace you find, so I was happy with the lap times I was putting in by the time we finished today."