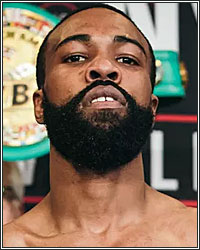 It sucks when you have a tough loss at the end of a slow boxing news cycle. That loss will, of course, get more press attention. It especially sucks if you have a particularly shitty response to that tough loss and fans can hyper focus on your shitty response.
On Saturday, boxing's longest-reigning world champ (in terms of time, at least), Gary Russell Jr., lost his WBC featherweight title via majority decision to high-energy mandatory challenger, Mark Magsayo by scores of 114-114 and 115-113 (twice). 
To be honest, it was not a completely unexpected loss as the 26-year-old Filipino was considered by many to be a real live dog in this contest while the 33-year-old Russell seemed to have a lot bogging him down. 
Russell came into this sixth defense of his title after 23 months of inactivity, claiming a mysterious injury (that, I guess, turned out to be a shoulder injury, which was aggravated during the fight…I guess), missing weight by half-a-pound (making weight on his second try), and following a 13-month stretch of tragedy that saw a younger brother pass away from a heart attack and his father lose his foot due to complications from diabetes. 
The stars seemed to be aligned against Russell, yet he still performed as well as could be expected against a young, hungry guy who IS a legit young lion. All things considered, it was an admirable showing from a veteran champion. 
Then he went ahead and ruined everything by talking.
"Politics is a bad motherfucker," the ex-champ said via social media stream shortly after the loss. "I beat that boy at least 10 rounds to 2, 9 to 3…I took old boy to school…Y'all seen what it was…They been tryin' to get a nigga out of the way, I guess, I don't know…But it is what it is…I outclassed him, out-schooled him, out-boxed him with one motherfuckin' arm."
Um…nope. 
Impulse control can be a bitch if you're coming off some horrible turn of events and have direct, unfiltered access to an immediate bully pulpit. From a public relations perspective, though, some shit needs to go unsaid or, at the very least, put off until common sense and tact override ego and in-the-moment competitive fire. 
In the ring, post-fight, Russell did a bit better in sounding less shitty. A little better. Slightly, slightly less shitty. 
"I believe I have a torn tendon in my right shoulder. I haven't competed in almost two years. This is what true champions do. I wanted to step into the ring and display my superiority regardless of the injury and whatnot. We did that and I gave him a boxing lesson. I gave him a boxing lesson the whole way through. I landed clean whenever I wanted to. I couldn't use my right arm, but I was still able to throw effective shots and touch him at will…I felt like I still won the fight to be honest with you. I fought with one arm. He had his hands full with a fighter with one arm and the whole fight I gave him a boxing lesson!"
In those few minutes from the ring to back in the dressing room, where his team and friends and general hangers-on may have had time to soothe his ego, his take on matters got increasingly worse. 
"When you stay true to yourself and never fold they screw you," Russell wrote on his verified Instagram page, taking his first firm step into Deontay Wilder Land. 
The hard wake up call needs to be made to the now-former champ. The "man," the "powers that be," the diabolical "they"…just don't care enough about a featherweight titlist to create a great conspiracy plan against him. They especially don't care enough about a featherweight titlist who rarely fights and who makes 99.9% of his headlines calling out fighters three or four divisions heavier than him for utterly undoable fantasy bouts.
Former heavyweight champ Deontay Wilder took a leap into conspiracy fantasy land after losing to Tyson Fury for the first time and it damaged his career more than any shot Fury ever managed to land on him. Boxing fans are generally a very accepting lot, but delusional post-loss hissy fits don't sit well. That kind of stuff will turn a sympathetic character into a laughing stock in a heartbeat. 
Russell had so much going against him on Saturday, matched against an opponent who had so much going FOR him…and he nearly pulled it off. 
How well Gary Russell Jr. managed to do under the weight of what he had been going through is a testament to his skill, will, and ability. Everything he's done since taking off the gloves, however, has made him look pretty shitty. 
Got something for Magno? Send it here: paulmagno@theboxingtribune.com