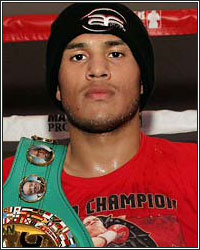 There's a lot of boxing in David Benavidez…and I mean that in multiple ways. 
First, in the most obvious way, the guy knows his shit and is an absolute joy to watch, as evidenced by his one-sided blowout of David Lemieux (in an especially mature, serious performance, by the way) this past Saturday on Showtime. The 25-year-old is a true natural, a child prodigy who, at least on offense, hasn't just learned every lesson given to him, but has absorbed those lessons, has BECOME those lessons. 
But the negative, non-fighting aspects of the young man and his career trajectory also say a lot about boxing.
On the flip side of his natural talent and aptitude, there's been the ages-old boxing tale of a champion brought down by outside-the-ring weaknesses and distractions. Notably, the Phoenix native holds the odd distinction of being a two-time world champion who's lost his belt twice without ever losing a fight in the ring. 
He was stripped of the WBC super middleweight title for the first time in 2018, shortly after becoming the youngest fighter to hold that title, when he tested positive for cocaine. Then, after eventually regaining the belt, he was stripped a second time in August 2020 when he failed to make weight for the first defense of his second championship reign.
These self-induced setbacks have cost him dearly and a case could be made that his struggles in getting the big fights he's wanted (specifically, a Canelo Alvarez fight) have come directly from twice abdicating his throne for no good reason.
Thankfully for him, however, his detours came at a young age and he's still young enough to put all of that behind him as early, odd footnotes to an otherwise hefty, fruitful career.
And speaking of the big fights Benavidez isn't getting…
Him not getting those fights also says a lot about boxing.
Nobody should have to be told that boxing is a business. And they shouldn't have to be told that a talented, dangerous fighter will not have established stars bending over backwards to accommodate his challenge, unless the reward for meeting him is greater than the risk of facing him. 
Up until this point, Benavidez has been all risk with little reward. Even now, despite big live gates in the Phoenix area, no. 1 sanctioning body rankings, and a newly-won interim WBC super middleweight title, it's still good boxing business to look elsewhere for a good B-side opponent.
And, to Team Benavidez's credit, they seem to get that now. Boxing business is open to fighters becoming stars; It's just not all that open anymore to stars being put in positions to pass their torch.
"All of you, please don't continue fantasizing on Canelo," Benavidez's promoter Sampson Lewkowicz, told reporters during the post-fight press conference Saturday night. "He will not take a step ahead to fight the real champion, the champion of the people. Let's not talk anymore about Canelo. It doesn't exist.
"He looked so bad [in his May 7 loss to WBA light heavyweight titlist Dmitry Bivol] that I don't think he can come back. Maybe he can take it as a 40-year-old man. Besides that, he will not do nothing else. So please, don't talk about Canelo. It won't happen and will likely never happen."
Lewkowicz's plans for Benavidez's next fight include Caleb Plant, David Morrell, and Jermall Charlo—all challenging, legacy-building, star-building contests for a fighter with, apparent, real ambitions. Of course, somebody has to talk to Plant, Morrell, and Charlo about whether they have the same sans-Canelo plans for future stardom and legacy building. 
But, that's the thing about boxing…and also about Benavidez– you just never know. 
As much as we'd like to believe in both, both have shown a tendency for frustrating, momentum-stalling, self-destructive detours.  As a fan– of boxing and of David Benavidez– I'll be assuming my usual position: Hoping for the best, bracing for the worst. 
Got something for Magno? Send it here: paulmagno@theboxingtribune.com