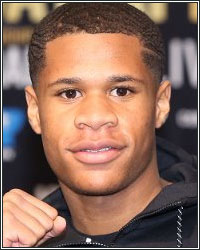 It sounds downright dumb to say that a 23-year-old fighter is facing a career do-or-die challenge. But I'll take that risk of sounding dumb in the particular case of Devin Haney and his challenge of 3-belt world lightweight champ George Kambosos Jr. this Saturday at Marvel Stadium in Melbourne, Australia.
Haney, who's risking his own WBC lightweight title in a bid for full unification, definitely has the deck stacked against him. Not only will he be fighting on Kambosos' Australian home turf, but he'll be doing so without the presence of his father and trainer Bill Haney in his corner. The elder Haney was denied a visa for entry into Australia based on a felony drugs conviction almost 30 years ago (UPDATE: Bill Haney was given last-minute visa approval by the Australian authorities and will be in his son's corner on Saturday]. And to make matters even worse, Haney will be fighting with the knowledge that if he wins, he's contractually bound to fight Kambosos in an immediate rematch, also in Australia. 
To his credit, though, the kid jumped at the opportunity to become the immediate top dog of the 135 lb. class and conceded on pretty much everything to get the shot.
As I wrote right here at FightHype.com, back when Kambosos-Haney was first signed:
"The 23-year-old Haney is making less money than he'd like in his upcoming 4-belt lightweight title unification clash with George Kambosos this June 4. He's also agreed to fight in Kambosos' native Australia. If he wins, he's agreed to fight the rematch in Kambosos' native Australia as well. He even signed a multi-fight co-promotional deal with DiBella Entertainment (Kambosos' promoter) and Top Rank to get the Kombosos deal and get the fight secured for airing on ESPN."
In short, Haney put all his chips on black and is approaching this fight as a huge gamble on himself. 
"To be honest, I pretty much just agreed to everything that they wanted," Haney told Fighthype.com at the time. "No matter what it was, we didn't argue. We didn't get nothing our way but we didn't do no arguing. We just said 'whatever we can do to make the fight happen.' If I gotta go on there on another network, another promoter — which is my promoter now — to make the fight happen, so be it. If I gotta rematch you twice in Australia, so be it. It didn't matter, I just wanted the belts. I want my name to be in the history books forever.
"I'm taking a lot less money that what I should be making, but it is what it is. It's about my name being in the history books and my name being remembered and the money will come…when I get the belts, then I can write my own checks."
Realistically, though, passing up on this opportunity, which practically fell into his lap when Vasiliy Lomachenko removed himself from Kambosos negotiations to contribute to the war effort in his native Ukraine, would've been crazy. With one win, Haney can become the shot-caller in the lucrative lightweight division. 
As I also wrote here at FightHype.com:
"With ALL the lightweight titles, though, and ESPN money behind him (which, unlike DAZN money, IS long-term sustainable), he'll have significant more leverage in making big fights for himself. Anyone who wants to make big business at 135 will HAVE to get at it through him, at least in theory."
But this gamble on himself also carries significant risk. 
Before this Kambosos fight materialized, Haney's career was already starting to have a Demetrius Andrade-type vibe to it. He was getting stuck in that career-stalling purgatory of being too much risk for too little reward and, despite holding the WBC title, had little leverage in getting the big, legacy-defining fights he craved. 
If he loses to Kambosos, Haney will be completely– and happily– written off by the other top lightweights and, without even the WBC belt anymore for minimal leverage, will find it significantly harder to get a big, legacy-defining fight. In the recent past, even rough patches in his bouts have opened the door for potential opponents to dismiss his main stage worthiness. A full-on loss will likely close doors permanently. 
Maybe calling a Kambosos loss a career killer is a bit much, but it will definitely set him back for a good long time and give him zero shot at a world title in the foreseeable future, unless he entertains a move up in weight to 140. 
Kudos to the kid for gambling on himself and taking the kind of risk that often goes hand in hand with either massive success or crushing failure. We'll see how this all plays out on Saturday.